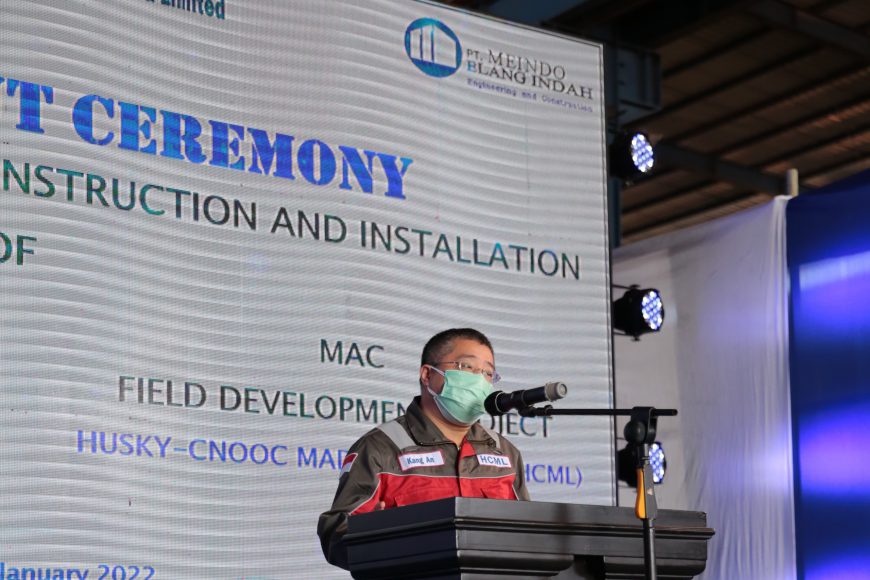 Bintan – January 18, 2022.
MAC Field operated by Husky-CNOOC Madura Limited (HCML), one of the Production Sharing Contract Contractors (PSC/KKKS) of Special Task Force for Upstream Oil and Gas Business Activities (SKK Migas), is ready to produce.
HCML held a "First Steel Cut Ceremony" (preliminary inauguration of work) MAC Field in Bintan, Tuesday (18/1/2022). The event was attended by officials from SKK Migas, HCML, PT Meindo Elang Indah (engineering, procurement, construction and installation contractor of gas WHP and MAC Field pipelines), and a number of partner representatives.
"We have signed a gas sale and purchase agreement with PT Petrokimia Gresik (15 MMSCFD), PT Bayu Buana Gemilang (10 MMSCFD), and PT Inti Alasindo Energy (10 MMSCFD). Later, this gas lifting will meet the needs of the community and industry in East Java," said Hamim Tohari, Regional Office & Relations Manager.
The production potential of the MAC Field is known at 50 MMSCFD. HCML invests in this to maximize production within a period of 5 to 7 years. "We are working on the development of the MAC Field that is expected to be onstream in Q4 2022 as part of our efforts to contribute to the Republic of Indonesia," Hamim said.
Currently, the needs for gas in Indonesia is getting bigger along with the increasing economic growth of Indonesia. HCML as a gas producer in East Java has been experienced in gas production in the Madura Strait Block. HCML has been producing gas and condensate since 2017 by managing four wells. HCML becomes one of the backbone of gas fulfillment in East Java by accounting for about 30 percent of gas supply.
HCML also has a reputation as managing BD Field as the first offshore facility in Asia to produce liquid sulfur and carry out liquid sulfur demolition, having carried out liquid sulfur loading for the first time in 2017.
"We want to fulfill our vision of being East Java's largest gas producer and operator of choice in Indonesia, by managing an oil and gas business that adheres firmly to a commitment to ethics, health, safety and the environment. With the start of this MAC Field project in Bintan, we hope that vision becomes real," Hamim said.
Meanwhile, Division Head of Project Management and Facilities Maintenance of SKK Migas, Ardiansyah, expressed his appreciation and support for the MAC Field "First Steel Cut Ceremony". This event shows the strong support of HCML to increase national oil and gas production. "HCML is one of the mains support of national gas production, which in 2021 recorded gas production and flow of 102 MMSCFD and in 2022 the target of gas production and flow rose to 172 MMSCFD or an increase of about 69 percents. With the project target to be onstream in Q4 2022, MAC Field production will sustain HCML's efforts to be able to achieve the 2022 target," said Ardiansyah.
Furthermore, Ardiansyah emphasized that in its implementation, HCML always prioritize the implementation of occupational health, safety, and environmental protection (K3LL), especially now still in the situation of the Covid-19 pandemic. The K3LL aspect is a priority in the upstream oil and gas industry, so it is HCML's obligation to maintain properly until onstream can record zero accidents. "Work accidents in addition to potential losses, can also cause the completion of the project to be delayed. Thus, the spirit and implementation of K3LL at a high level must be the commitment of all parties involved in this project so that the MAC Field onstream target in Q4 can be realized. The Covid-19 protocol must be strictly maintained, especially the Government has asked all parties to be aware of the potential spread of Omicron variant. It must be maintained properly so that there are no cases in the project", concluded Ardiansyah.***