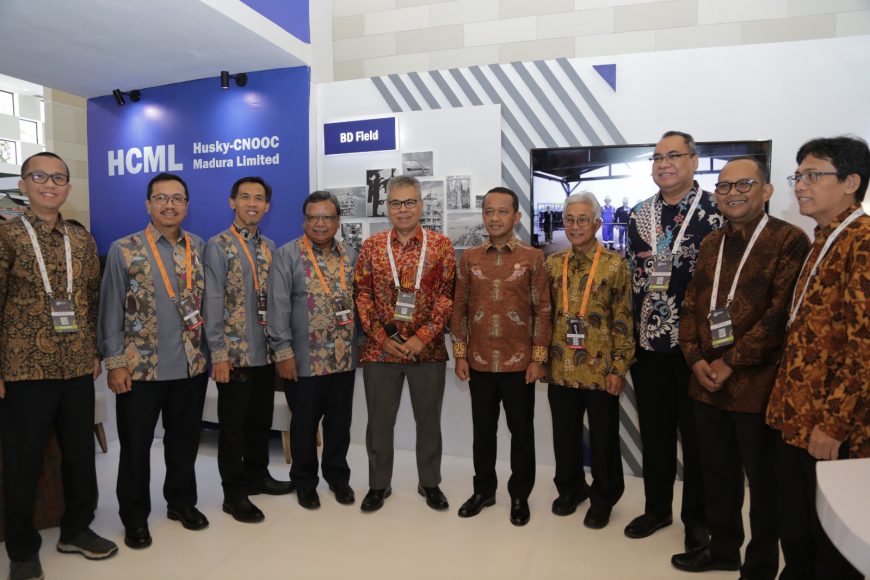 Nusa Dua, Bali – September 23rd, 2023, Minister of Investment, Head of the Investment Coordinating Board, Bahlil Lahadalia and Indonesian Minister of Energy and Mineral Resources, Arifin Tasrif appreciated the success of Husky CNOOC Madura Limited (HCML) in increasing natural gas production from 110 MMSCFD to 230 MMSCFD. This appreciation was given directly when the two (2) ministers visited the HCML booth at the 4th International Convention on Indonesia Upstream Oil and Gas (IOG 2023), at the Bali Nusa Dua Convention Center (BNDCC), 20 – 22 September 2023.
Minister Arifin Tasrif praised HCML's position as the largest gas producer in East Java. He hopes that HCML can continue to increase production to reach 500 MMSCFD. This will mark HCML as one of the main gas producers in Indonesia. "Economic growth requires the availability and affordability of energy, including oil and gas. This is important in supporting sustainable development, in order to achieve the target of Advanced Indonesia in 2045," said Arifin Tasrif, Minister of Energy and Mineral Resources of the Republic of Indonesia.
During this IOG 2023 event, HCML has also signed 6 agreements with gas buyers e.g. a Gas Sales Agreement (GSA) with PT Perusahaan Gas Negara Tbk, a Head of Agreement (HoA) with PT Berkah Buana Energi, four (4) Memorandum of Understanding (MoUs) with PT Temas Tbk, PT Sinergi Gas Indoraya, PT Likuid Nusantara Gas, and PT Petrokimia Gresik. The success of this signing ceremony was not just about the signing, but it was about the trust and confidence by the gas buyers put in HCML as the reliable natural gas seller. HCML has spent the past year cultivating the relationship with gas buyers, addressing their needs and working with them to create both fair and profitable business. GM HCML, Mr Kang An represent the company to sign the document
As a form of support for the national oil and gas industry, HCML has also signed the Election Not To Take In Kind Procedure (ENTIK) document with the Head of the Special Task Force for Upstream Oil and Gas Business Activities (SKK Migas) Dwi Soetjipto, at the convention that visited by 3000 visitors.
This signing ceremony mark HCML's journey as the biggest gas producer in East Java to support SKK Migas mission achieving 1 million BOPD of oil production and 12 BSCFD of gas production by 2030. As of August 2023, total East Java gas supply was 614 MMSCFD and 187 MMSCFD of it was HCML's portion.
HCML VP Marketing, Legal & Business Support, Wahyudin Sunarya, said that all HCML production gas is absorbed by domestic industry. "This is very useful and can help the economic turnaround for society and industry in East Java for more sustainable future," he said. Even more encouraging, according to Perkasa Sinagabariang, VP Operations at HCML, Indonesian workers have an important role in this project. "What is very encouraging is that almost the entire HCML field development project was carried out by Indonesian sons and daughters themselves," he said.
The 4th International Convention on Indonesia Upstream Oil and Gas (IOG 2023) is a meeting place for all stakeholders in the upstream oil and gas industry in Indonesia. There are four (4) concepts raised at this year's ICIOG, including Energy Security, Attracting Investment, Dynamic Market, and Energy Transition. "The delegates will also hold a collaborative dialogue which will result in a commitment to development in the upstream oil and gas sector. There will also be eight discussion forums to discuss strategic plans which will involve experts from the global business world," said Dwi Soetjipto. SKK Migas also launched IOG e-commerce, signing an MoU with a total value of US$ 5.16 billion or Rp. 77.4 trillion.
HCML participated in the success of this event as one of the sponsors of the event. Apart from that, HCML also built a stand booth to convey the success in producing fields in the Madura Strait block. On that occasion, HCML also received the "Best Local Content Achievement" award which was received by SCM Senior Manager, Listiani Dewi for the field of procurement of goods and services.***