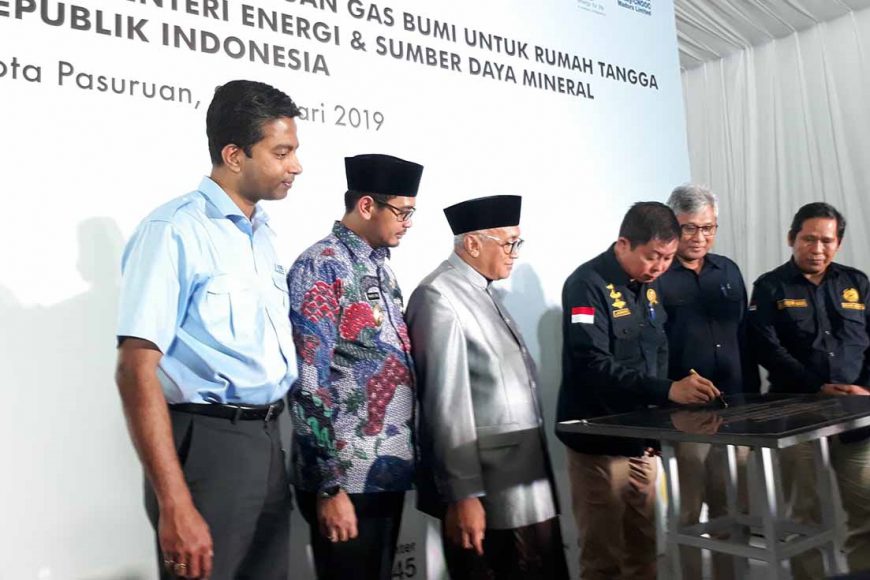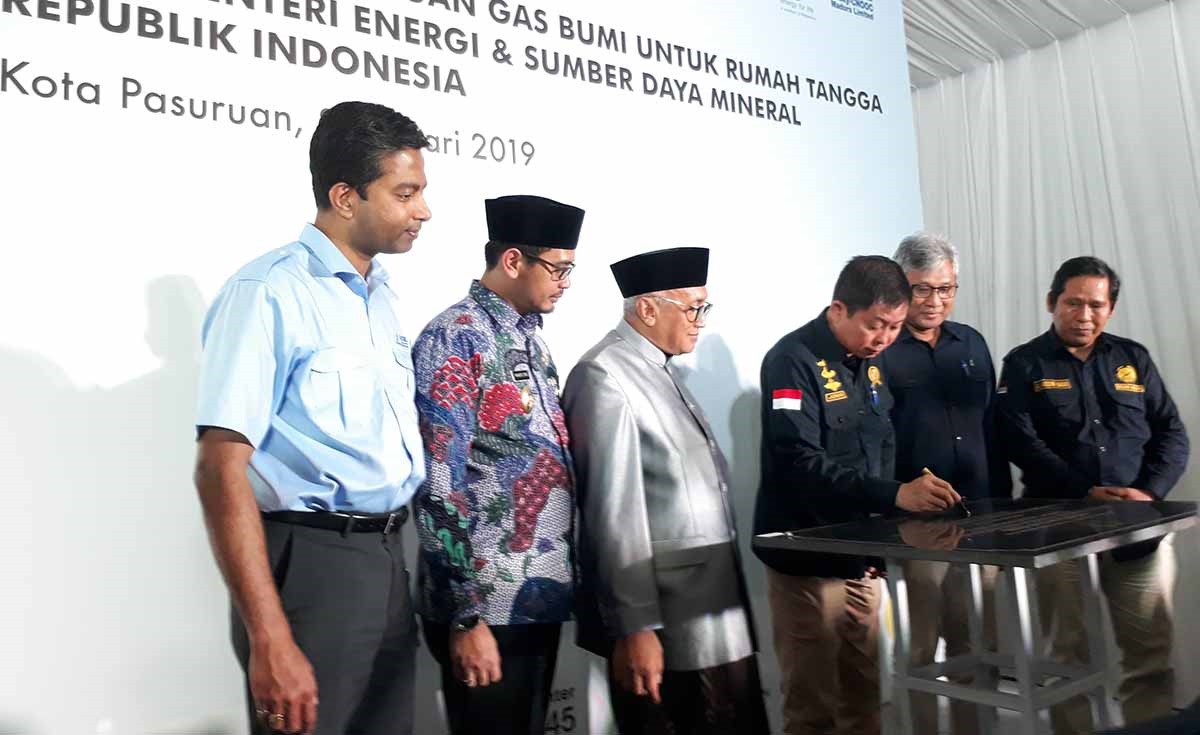 Pasuruan – Following the success of prior City Gas Pipeline – Household Gas Network program of two cities namely Mojokerto City and Probolinggo city in 2018, Husky-CNOOC Madura Limited is now supporting the Pasuruan City Gas Pipeline program in 2019.
Exclusive for Pasuruan City, HCML supplies gas of 0.2 million standard cubic feet per day (MMSCFD). The gas is supplied to the customer's household through gas pipeline infrastructure that has been built by PT Perusahaan Gas Negara Tbk – National Gas Company.
"Thus, the total of HCML gas for city gas pipeline program in Mojokerto, Probolinggo, and Pasuruan reached the amount of 0,65 million standard cubic feet per day (MMSCFD). The Gas came from the BD Field which has started its production in 26th July, 2017," said General Manager of HCML, Mr. Tilak Ranjith Kumar Nithiyeswaran, Tuesday (8/1/2019) evening.

The inauguration of Pasuruan City Gas Pipeline program was marked by the turning of distribution faucet by the Minister of Energy and Mineral Resources, Mr. Ignasius Jonan at Pasuruan. Present at the event, among others are Regent of Pasuruan, H.M. Irsyad Yusuf, Chairman of SKK Migas Jabanusa, Ali Masyhar, President Director of PT PGN, Gigih Prakoso Soewarto, and representative of Commission VII of House of Representative.
Interviewed after the event, Tilak Nithiyeswaran said that HCML's management was very proud to be able to support Pasuruan City Gas Pipeline program. City Gas Pipeline is cheaper, easier, and safer than using LPG.
"The existence of City Gas Pipeline is also a part of national strategic program to increase the use of natural gas in order to diversify the use of fuel in household sector. Hopefully, this program will also improve the competitiveness of home industries that have used City Gas Pipeline," he added.
As known, HCML is a BD Field operator working under the control and supervision of SKK Migas. Said operated field is located offshore of Madura Strait, about 52 km east of Pasuruan City (East Java) and 16 km south of Sampang District, Madura Island. The BD Field is estimated to have gas reserves of 442 billion standard cubic feet (BCF) and condensate of 18.7 million stock tank barrels (MMSTB)