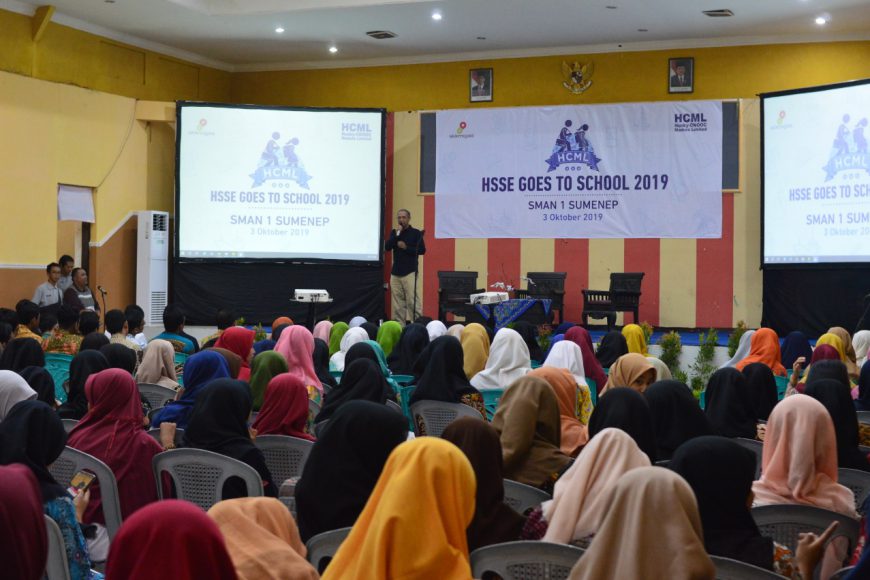 HCML HSSE 'Goes To School' Visit SMAN 1 Sumenep
Sumenep – Husky-CNOOC Madura Limited (HCML) together with SKK Migas campaigned for the importance of health and safety at SMAN 1 Sumenep on Thursday (03/10/2019). The activity, labeled "HCML HSSE Goes to School 2019", targets 250 representatives of class X, XI, and XII students of SMAN 1 Sumenep.

"We want to instill a culture of safety, a culture of protecting the environment, and the importance of Clean and Healthy Behavior (PHBS), starting from the millennial generation. For this reason, we embrace high school students," said Senior Head of Safety and Environment HCML, Agus Santoso.
In the Health, Safety, Security, and Environment (HSSE) activities, students are not only introduced to the basic HSSE principles, but are also directly invited to be involved in simulating the handling of several incidents. Among the extinguishers for minor fires, as well as the first treatment for victims of injury or accident, for students who are members of the Youth Red Cross (PMR).

"So we take this student directly to practice. Not just theory, but they can be directly involved in how to deal with light fires, how first aid in accidents," he said. The socialization was followed with enthusiasm by the students. Moreover, the activity was also studded with prizes ranging from chocolate to mountain bikes, in exciting games throughout the event.

According to Agus, HSSE is the main value in the upstream oil and gas industry activities. HCML is a company engaged in the exploration and exploitation of oil and gas. HCML as the representative of the Government of the Republic of Indonesia to carry out oil and gas exploration and exploitation activities in the Madura Strait Block.

"Our operations are located in the waters of the Madura Strait. Hopefully, this activity will continue. Moreover, HCML will enter production periods. So we have to become more familiar with stake holders," Agus said.
"HCML HSSE Goes to School 2019" was also attended by Arif Abadil, representing the Chairman of SKK Migas Jabanusa, as well as from the Sumenep Environment Office (DLH).

While the Head of Sumenep SMAN 1, Syamsul Arifin welcomed the activity. For him, it is an honor, the school he leads was chosen to be the place of the HSSE Goes to School event. "Thank you to HCML for your cooperation. This activity is very beneficial for our schools and students," he said. ***