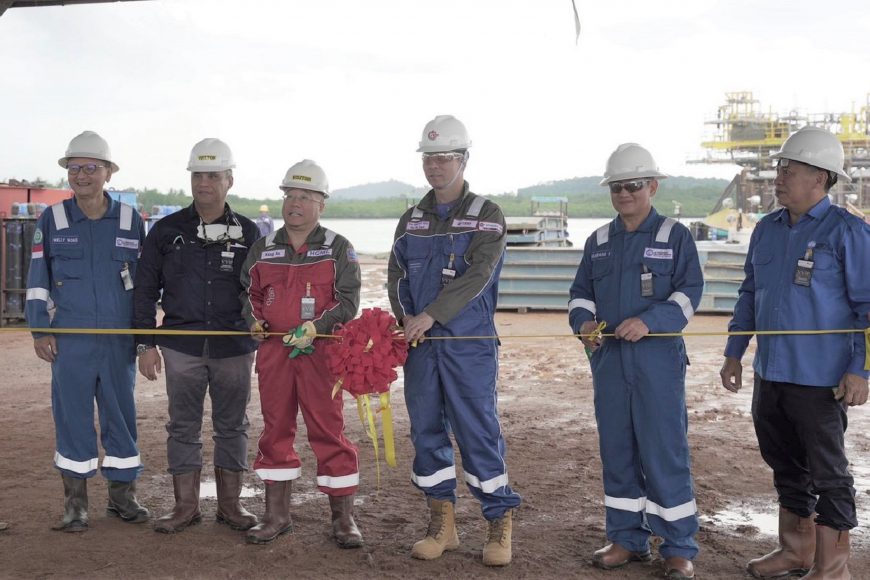 Bintan – The vision of Husky-CNOOC Madura Limited (HCML) to become the biggest gas producer in East Java and the operator of choice in Indonesia will become a reality, following their readiness to produce gas from the MAC Field in the Madura Strait with the beginning of the process of Load out & Sail Away Well Head Platform MAC activities which are proceeding as planned, today, Tuesday (21/6/2022) by PT. Meindo Elang Indah (EPCI contractor) in Bintan Yard, Bintan Island, Tanjung Pinang, Kepulauan Riau Province.
" MAC Field is one of the buffers of SKK Migas's gas production target of 1 million BOPD and 12 BSCFD by 2030. MAC project started very well by following high occupational safety regulations, of course it will produce good work as well," said Head of Asset Management Division of SKK Migas, Achmad Riad.
HCML is one of Production Sharing Contract Contractors (PSC/KKKS) under the supervision of the Special Task Force for Upstream Oil and Gas Business Activities (SKK Migas). The production potential of the MAC Field is known to be 50 MMSCFD.
In its work, HCML adheres strongly to a commitment to ethics, health, safety, and the environment. "With this Sail Away WHP MAC activity, we hope that the vision will become real," said Kang An, General Manager of HCML.
HCML invests in maximizing production over a period of five to seven years. "We are working on the development of the MAC Field which is estimated in Q4 2022 as part of our efforts to contribute to the Republic of Indonesia," said Kang An.
This Load Out & Sail Away activity is a process of releasing the well head platform (WHP) into the sea. This is a sign that the manufacturing process at the yard is already complete, and it will sail to its installation site in the Madura Strait. It is hoped that this can increase gas production, because currently the need for gas in Indonesia is getting bigger along with the increasing economic growth of Indonesia.
HCML itself has signed gas sale and purchase agreements with PT Petrokimia Gresik (15 MMSCFD), PT Bayu Buana Gemilang (10 MMSCFD) and PT Inti Alasindo Energy (10 MMSCFD). "Later this gas lifting will meet the needs of the community and industry in East Java," said Kang An.
The reputation of HCML is unquestionable. The company has experience in producing gas and condensate oil from four wells in the Madura Strait Block since 2017. HCML is currently one of the backbones of gas fulfillment in East Java by contributing around 30 percent of gas supply.
HCML also has a reputation as a company that manages the BD Field as the first offshore facility in Asia to produce liquid sulfur and carry out liquid sulfur unloading, having carried out liquid sulfur loading for the first time in 2017.*