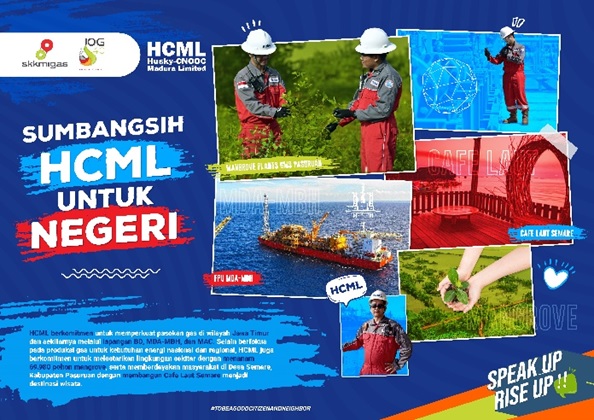 Bandung – Last Tuesday (22/8), it was quite a proud day for Husky – CNOOC Madura Limited (HCML). This is because HCML succeeded in winning the title "The Most Favorite Showcase Poster" in the poster competition held at the 2023 Upstream Oil and Gas Public Relations Workshop with the theme "Speak Up Rise Up !!".
The event organized by SKK Migas and Production Sharing Contract Contractors (PSCs) in Bandung is an annual event attended by all public relations personnel from the upstream oil and gas industry. Apart from presenting public relations experts as the speakers, this event also included games and competitions, including the best and most favorite poster competition which was participated in by PSCs workers.
The contested categories consist of 4 categories, namely the best social media engagement, the best crisis handling, the best poster chosen by the jury and the favorite poster chosen by the participants. HCML managed to win the participant's favorite winner by setting aside 13 posters belonging to other PSCs.
Representing HCML on stage was HCML's Head of Field Relations, Ali Aliyuddin, who received the award in the form of a plaque by SKK Migas' Head of Program & Communication Division, Hudi D. Suryodipuro. Ali said, "This time, the posters displayed by HCML carry three themes; namely technical/operational themes, environmental themes and Community Empowerment Program (PPM/CSR) themes. In the technical/operational field, HCML displayed a photo of the Pasuruan Gas Metering Station (GMS) and the MDA-MBH FPU, in the environmental field, HCML displayed a photo of mangrove tree conservation, and in the PPM/CSR field, HCML displayed a photo of the Laut Semare Café.