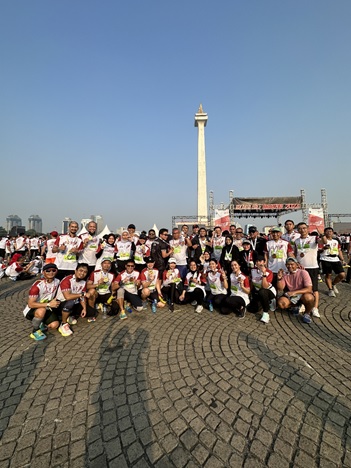 FIT HUNTER: 1st Cycle Recap – Jakarta Half Marathon / FIT HUNTER: Ringkasan Siklus Pertama – Jakarta Half Marathon
FIT HUNTER Bulletin: 1st Cycle Recap – Jakarta Half Marathon
We are excited to share the remarkable success of the first cycle of our FIT HUNTER program, where we enthusiastically participated in the Jakarta Half Marathon held on August 20, 2023. This event marked a significant stride towards promoting a healthy and fit lifestyle within HCML.
Event Highlights:
Overwhelming Participation: More than 10,000 participants from various backgrounds joined the event, competing in the 5K, 10K, and 21K categories. This impressive turnout showcased a collective commitment to health and fitness.
Early Rise for Wellness: The event kicked off at 5AM, with participants embracing the early hours to challenge themselves physically and mentally. The marathon provided an opportunity to witness the city's beauty and experience the streets in a unique way.
Triumphant Finish: As the clock struck 8AM, all HCML participants celebrated their achievements as they crossed the finish line below Cut Off Time and receive designated medal. The event concluded on a high note, with a sense of accomplishment resonating throughout.
HCML Representation:
Proud Participation: A total of 34 enthusiastic participants from HCML laced up their shoes and took part in the 10K category. Their dedication to both the event and the FIT HUNTER program was truly commendable. On behalf of Management, Pak Perkasa Sinagabariang (VP Operation), Pak Aris Suryanto (Marketing Manager) and Pak Wira Kusuma (Budget & Reporting Manager) also joined and promoting FIT HUNTER significantly.
Safety First: We are delighted to report that our HCML participants completed the event without any Health, Safety, or Environmental incidents. This reinforces our commitment to ensure the well-being of our team even in physically challenging environments.
Moving Forward:
Embracing a Healthy Lifestyle: The success of our participation in the Jakarta Half Marathon is a testament to our commitment to promoting healthy living. The event not only highlighted the importance of physical activity but also the spirit of camaraderie among our participants.
Continuing the Hunt: The FIT HUNTER program remains steadfast in its mission to search for and join events that encourage a fit and healthy lifestyle. We are excited to uncover more opportunities to challenge ourselves and foster a culture of well-being within HCML.
We extend our heartfelt appreciation to all participants, as well as the entire HCML family, for your unwavering support and enthusiasm. Together, we will stride forward on this journey towards improved health and vitality. Stay tuned for more exciting updates from FIT HUNTER as we continue to explore and embrace new avenues of wellness!