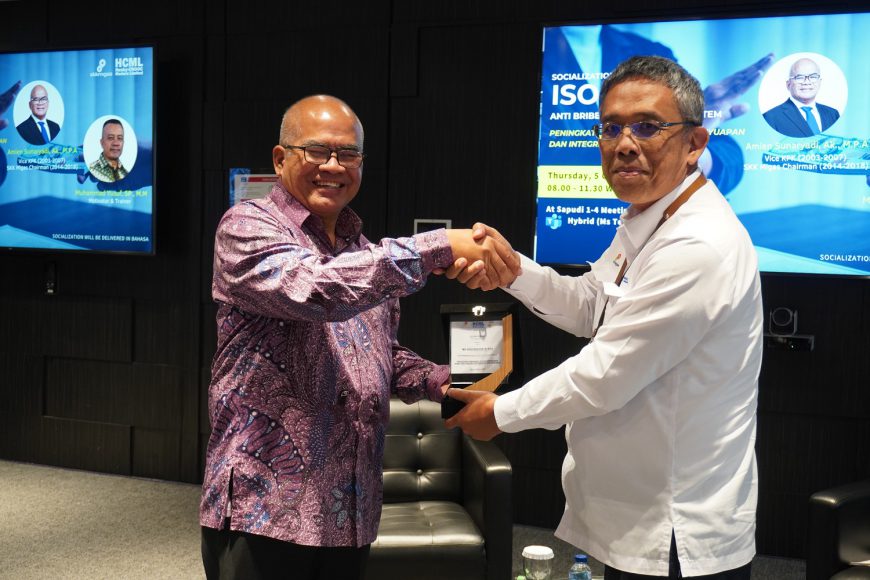 Jakarta, 5 October 2023 – One of the practices in business that can threaten a company's reputation and economy is bribery.
Bribery can be defined as the act of giving or requesting money, goods or other forms from the bribe giver to the bribe recipient with the intention that the bribe recipient provides convenience in the form of actions or policies within the authority of the bribe recipient in accordance with the interests of the bribe giver. This action can threaten business continuity and reduce public trust.
SNI ISO 37001 Anti Bribery Management System (ABMS) was introduced in 2016 in an effort to prevent, detect and overcome the practice of bribery.
SNI ISO 37001 ABMS is an international standard that provides concrete guidance in implementing anti-bribery management in a company. This is very helpful in identifying, preventing and handling bribery incidents in an appropriate manner.
In this regard, HCML has succeeded in achieving SNI ISO 37001 ABMS certification in 2021 and has consistently implemented an anti-bribery management system within the company, one of which is by taking important steps to socialize ISO 37001 ABMS to all its employees.
The ABMS socialization event which was packaged in the form of an interactive seminar to increase the understanding and integrity of HCML personnel was held on October 5, inviting Mr. Amien Sunaryadi Ak., M.P.A, former deputy chairman of the Corruption Eradication Commission and former Head of SKK Migas as a speaker.
Mr. Amien Sunaryadi, Ak., M.P.A explained the principles of 4 NO's (No Bribery, No Kick Back, No Gift and No Luxurious Hospitality) and COI (Conflict of Interest) which must be important principles in efforts to prevent bribery. This is because both are the basis of actions and thought patterns that must always be remembered when interacting with fellow employees and with HCML business partners.
Monang Tampubolon, Chairman of the ABCF Team HCML, said that there is a need to increase understanding of all HCML personnel regarding the SNI ISO 37001 ABMS anti-bribery management system. With good understanding, it is hoped that every HCML personnel will be committed to identifying, preventing and handling bribery incidents within the HCML environment.